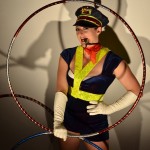 "HILLIER IS ONE OF THE HOTTEST ACTS ON THE AUSTRALIAN  CIRCUIT"
 – Tim Elliot, Spectrum, SMH
Heidi Hillier is not just a hula hooper and circus entertainer with costumes to die for, she is also an exuberant and unique MC and vaudevillian.
She puts all her skills – hula hoops, trick rope, lasso, whip, and clown – to good use to inspire and entertain anyone and everyone!
Heidi can provide outdoor shows, cabaret acts, hosting, roving entertainment, theatre shows and workshops!