Circular Circus – Hula-Hoop Show
Roll Up, Roll Up, Roll Up for CIRCULAR CIRCUS. A Show that completely revolves around the hula hoop. The RING MISTRESS Heidi Hoops will present an astounding array of fabulous things you can do with circles in a circus ring. Rings that light up, are gigantic, tiny, magic and mysterious, watch her spin them around her fingertips, top hat, and toes and all of them at once.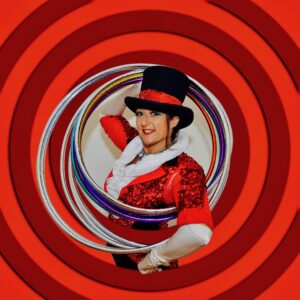 HMAS Heidi Hoops – Nautical Adventure
Pull up anchor and set sail for adventure to Lighthouse Island in this nautical themed circus show. Captain HMAS Hoops will be recruiting sailors to jump though hoops, learn the ropes and complete the official "naval" training program. Pay attention at the lifesaving drill because you might come face to face with a pontificating pirate or meet a mysterious mermaid along the way. Ropes, hoops, juggling, LED and all the circus tricks.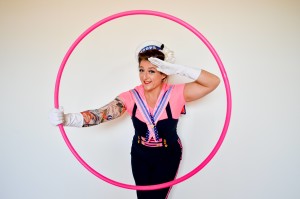 The Great Heidini – Knotted Madness
Escape artist, rope wrangler, and macramé mistress extraordinaire!  Watch, as she weaves witty woven wonders, untangles tricky tounge twisters and gets totally knotty with trick ropes. She'll leave you in stitches.  And for the grand finale…A classic 200 year old, 100 foot Rope Escape, which she learned from The Great Houdini himself!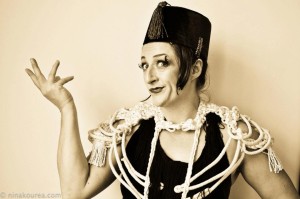 The Sugarcandy Show 
Discover the glitter in the darkness. Join the sassy sleuth as she uncovers the gruesome origins of bizarre superstar Sugarcandy. Along the way you'll meet a tragic beauty, witness a vaudeville vanishing act, see a poetic shadow puppet scene and experience the most original intergalactic hula hoop show this side of the Milky Way. Don't be in two minds about it. Sugarcandy will prove that 2 heads really are better than one when it comes to spinning hula hoops and telling tall tales.