"A really impressive hula hoop show from Heidi Hoops. This lady could spin 6 hula hoops without breaking a sweat, it was mind blowing, she is a must see!" Amy B, Weekend Notes.
Heidi's Hoop acts feature a combination of dazzling multi-hoop circus tricks, mesmerising isolations, exciting hoop juggling, toss ons, stacks, visual magic, and LED Smart hoops.
The Ring Mistress
Roll Up, Roll Up, Roll Up! Heidi Hoops is the Mistress of the Rings. Her hula hooping, whip-cracking, quick witt and circus party tricks will keep you entertained. She can do just about anything with a hula hoop … or a stack of twenty. You'll love her giant hula hoop too!
L.E.D Light Up Hoops
Light up the night sky or a darkened venue with a magical glow hoop routine. 1 LED Hoop looks spectacular with its rainbow trail but when you add the rest (up to 6 hoops) its absolutely mesmerizing. (This act can be colour themed or coupled with a live band.)
Diamonds Are a Girls Best Friend
This rhinestone encrusted gangster's dame has to earn her diamonds the hard way! She spins her hula hoops without even breaking a sweat! 1, 2, 3, 4, 5, 6 and keep counting till the grand finale hoop stack.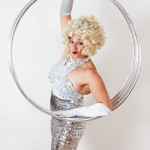 Wonderwoman/ "I Need a Hero"  
You'll love this hilarious and skillful early 80's superhero revival! Wonder Woman saves the day, spinning out of her amazing costume, spinning her golden lasso, catching criminals and giving them "what for" with her golden hoops!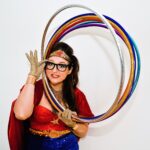 KC Jones – Train Drivin' Woman
Ready to Roll – Heidi Hoops is a Train Drivin' Woman! Move over Casey Jones, Heidi is steamin' hot, and rollin' her hoops, clickity-clack, down the railroad track! Her isolation and slide routine will have you transfixed like a regular trainspotter.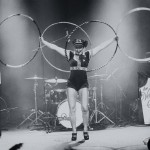 Cowgirl
Heidi Hodeo Rodeo is a wild cowgirl who likes to swing a hoop around her hat and ride an imaginary wild bucking pony (saddle). There are plenty of tricks in between and lots of yahoos too!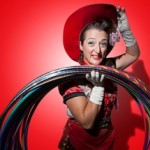 Sailor
Be prepared when HMAS Heidi pulls up anchor and jumps into a stack of shinny silver hoops on the hoop deck. It's a nautical adventure like no other!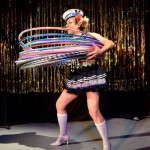 The Two-Tonettes
This Hoop Duet are vaudevillian inspired and gorgeously retro styled in black and white. These girls come from another era and are ready to charm you with their synchronised hoop routine and stylish hoop juggling. See their sparkling hoops by day and their LED light up hoops by night. Either way, they are sure to delight!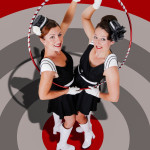 The Light Fantastic
This fantastic light up circus show features 3 of Australia's favourite circus artists, Heidi Hoops, Benny B and Tina Green.  The syncronised Hula Hooping, elegant club juggling and stunning light up costumes will leave audiences gasping in delight. This show features music-synced juggling, and 5 club/hoop skills and lots of aerodynamic moves.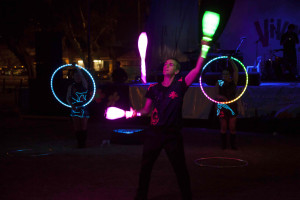 Sugarcandy – Sideshow Fun
Watching Sugar Candy is like "Vegas on acid" in an action packed carnival cabaret. She's a 2-headed sideshow sensation with a fun and a surprising twist under her glamorous hat! She'll light up your night with plenty of delicious glitter and glamour as she spins all her shiny silver hula hoops around both heads. She spins, wraps, twists, and splits up to 5 hoops at once before a dazzling gold slinky finale.