"Heidi is a wonderfully talented and engaging performer, a real pleasure to work with. And most importantly the kids love her too!"  Tina Harris – Lah Lah Productions
Super Circus – STEM Educational Concept Show
An incredibly inventive, interactive and educational show that uses the fun of circus, comedy and magic to inspire scientific inquiry into the natural, physical and material world.  Join the Professor, Danger Girl and the cast of kooky characters to discover how much fun you can have with light, sound, balance, forces and gravity!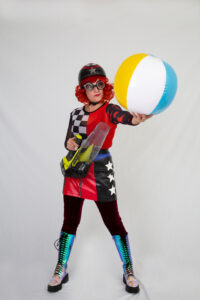 Circular Circus – STEM Educational Concept Show
Roll up roll up roll up for the worlds most mathematical circus show. The problem solving audience can unlock the circus, magic and whacky tricks. Proportion, probability, measurement, math-a-magical puzzles and quirky quizzes have never been so much hands on fun.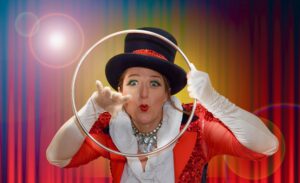 Heidi Hodeo Rodeo 
The Circus Rodeo is in town and Heidi Hodeo Rodeo wants to win the big prize. Heidi Hodeo hula hoops, lassos, and even transforms herself into one very big dairy cow in an attempt to triumph over her rival. Using her wit, imagination and a little help from the audience, her attempts to win the big circus prize are "utterly" hilarious!